| | |
| --- | --- |
| The distinct plastic degradation / black particles reducing or even eradication effect of the Lunac 1 coating is especially notable in extrusion parts. Melt fracture or die-lines issues are in most applications highly counteracted by Lunac 1 coatings. Because these effects are related to the changed molten plastic-Lunac 1 versus molten plastic-steel interactions the best effect will be sorted when the surfaces which are in contact with molten plastics are plated. Melt fracture and edge drooling reduction will be further enhanced by polishing the Lunac 1 coating to extreme low values as low as Ra < 0.01 µm / 0.4 µinch and applying the Lunac 1 | coating also several millimeters around the die (lip) face. We pay special attention to all edge zones anyway. All other connecting surfaces must be as sharp as possible (less turbulence less degradation). The particular good substrate bond of Lunac 1 allows sharp edges (although the brittle nature of Lunac 1 must always be considered). The cleaning interval of Lunac 1 coated parts is mostly extended by 3 to 7 fold. The removal of any (degraded) deposit is almost without exception significantly easier with a Lunac 1 coating and can be performed by using only medium hard tools (such as brass) or an oven / polishing agent (but never hard abrasives). |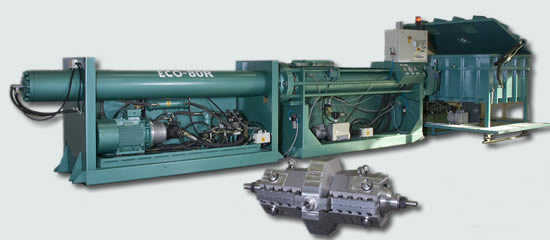 PUR processing line with high sensitivity to PUR (thermal) degradation (product discolouration and molecular deterioration). Only adaptor and screen filter elements (part in front) that were completely Lunac 1 coated (not even a slightest spot was allowed to be remained uncoated) proved to be able to solve these problems completely.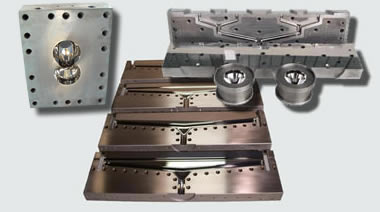 The least interrupted surfaces with lowest roughness, lowest surface energy and maximum inertness generally offer the best melt-flow characteristics. Lunac 1 can even be polished to less than 0.005 µm / 0.2 µinch in a remarkably short time because of the special material (flow polish) characteristics.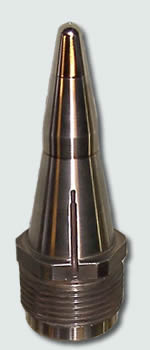 Nozzle inner bores as small as 5 mm / .2" can also be plated.
In this case to prevent the plastic (PC) from thermal degradation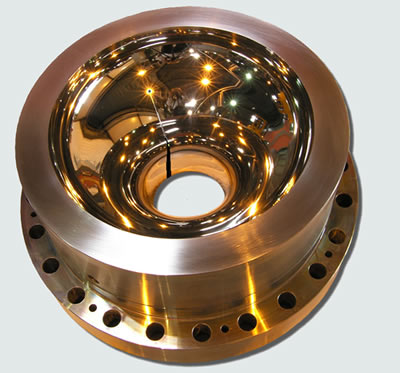 This adaptor shows a plastic degradation track (graphically added) to display the effect of (nearly) invisible surface irregularities at a location it is usually not expected. The initiation point of a die line must frequently be tracked down far 'up stream'. Carbon- but also chromium steel is not inert and mostly not homogeneous or can suffer from plastic degradation products penetration (picture 4). Research has shown all these conditions can be an important reason for die-line, edge-drooling, burned-particle production and discolouration. A Lunac 1 coating is mostly very effective in reducing or preventing these problems due to the uninterrupted inert surface.